Sky Sports Today - Breaking Transfer News, Build-up to Super Sunday and the Latest Sports News
Sky Sports Today - Tuesday March 19
Sky Sports Today - Tuesday March 19
Welcome to Sky Sports Today.

We'll bring you all the latest news and views through the day including what is certain to be an interesting England press conference this afternoon.

[pt]The morning papers are dominated by the fallout of Rio Ferdinand's withdrawal from the England World Cup squad but there are some other key lines.

THE SUN:

Manchester City have been told they can sign Edinson Cavani this summer - for a mind-boggling £60million.

THE MIRROR:

Cardiff want to bring Joe Ledley home from Celtic - if they clinch promotion to the Premier League.

THE MAIL:

Tony Pulis will consider his position as Stoke manager in the summer following a disappointing season.

THE STAR:

West Brom are planning a £2million swoop for striker Adam Le Fondre if Reading are relegated.

England opener

Nick Compton

says he still does not think he's guaranteed a place in the side for this summer's Ashes series.

Centuries in Dunedin and Wellington have seen him leap to the front of the queue but Compton is not taking his form, or his selection, for granted, though he admits he is already dreaming of an Ashes summer.

I've played enough cricket now where that line between success and failure is quite thin.

The more you play the more respect you have for the game.

Things can change very quickly.

You go to bed at night thinking about the Ashes.

You get that youthful exuberance which is natural.

I'd be lying if I said I didn't want to play in an Ashes series.

Of course I do.

[bn]

Officials at Newcastle have abandoned the race meeting scheduled for Wednesday due to waterlogging

With their series in India now lost, Australia have decided to send Mitchell Starc home for ankle surgery to give him every chance of being 100 percent fit for the Ashes this summer. Coach

Mickey Arthur

said:

He could have continued playing but we want to take a proactive approach in
managing Mitch to have him fit for the Ashes series in England.

Here's the full story

We included a very high buy-out clause in his contract as we want him to stay.

But if some 'nutter' is willing to pay £60m, which would mean a net fee of £54m for Napoli, we are ready to listen to the offer.

Newcastle lock James Hudson will play for Gloucester next season and is looking forward to making a fresh start.




I felt that now was the time for a new challenge.

I've always enjoyed playing at Kingsholm as an away player, it's a fabulous stadium with a passionate crowd.

However, Hudson says he is fully committed to the Falcons this season.

Go here for the story

.

England boss

Roy Hodgson

is expected at a press conference this afternoon when he will be asked about the decision of

Rio Ferdinand

to withdraw from the squad for the World Cup qualifiers against San Marino and Montenegro.

Hodgson is now reassessing his central defensive options with Ferdinand's replacement Steven Caulker, the recalled Joleon Lescott, Chris Smalling and Gary Cahill all in the frame to start.

Who would you play in central defence? Get in touch via @skyfootball and use #skysportstoday

[ssn]Manchester City defender

Vincent Kompany looks set to feature for Belgium

in their World Cup qualifiers despite the concerns of his club.

Kompany has not played since January due to a calf problem but has reported for duty ahead of the double-header against Macedonia.

Belgium assistant head coach Vital Borkelmans insists no decision has yet been made on whether the 26-year-old defender will play but has stressed his importance to the country.

Vincent is now training with the physical coach.

He also trained very hard at City.

He is very important for the group and we are quite happy he is here.

We will make a decision on Wednesday or Thursday whether he can play or not.

[pt]Newcastle United are reportedly considering legal action against Wigan Athletic and their midfielder

Callum McManaman

following his tackle on

Massimo Haidara

.

The

Daily Telegraph

claims that the north-east club believe that they are entitled to compensation over the injury sustained by the 20-year-old French left-back during Sunday's defeat to Wigan.

It is still unclear about the extent of the damage sustained by Heidara, with initial scans only ruling out broken bones.

There is a strong possibility that the FA will not punish McManaman.

Although referee Mark Halsey was unsighted, his assistant Matthew Wilkes saw the tackle and did not deem it a card-worthy offence.

England opening batsman Nick Compton speaks about the tour of New Zealand and his Ashes hopes


[pt]Arsenal defender

Laurent Koscielny

has pledged his future to the club saying he has no plans to leave the Emirates.

Koscielny's future at Arsenal had been the subject of speculation after he lost his place in Arsene Wenger's starting line-up earlier this season.

However, the French stopper has won his place back in the side and

insists he is happy to stay at Arsenal, telling

The Sun

:

My contract lasts for another four years.

I have no wish to be elsewhere.

[ssn] Following reports that Newcastle United are considering taking legal action against Wigan Athletic and

Callum McManaman

, the Premier League club have told

Sky Sports News

that they are 'considering all their options'.

Newcastle are also still awaiting the results of further scans on the extent of the injury suffered by

Massadio Haidara

in the challenge by McManaman, which yesterday was defended by Wigan chairman Dave Whelan as 'fair'.

Manchester United winger

Antonio Valencia

says he has had a bit of a disappointing season and feels injuries are a factor behind his dip in form.

[bn] Stoke City striker

Michael Owen

has confirmed he will retire from football at the end of the season.

Some early reaction coming in to

Michael Owen's

retirement from

Ellen White

of Arsenal Ladies, who has been speaking to

Sky Sports News

.

He was a fantastic footballer and I'm sure everyone will remember his amazing goals.

Michael Owen

has released a statement confirming his intention to retire at the end of the season and this is some of what he had to say.

It is with an immense amount of pride that I am announcing my intention to retire from professional football at the end of this season.

Having progressed through the ranks at Liverpool to make my first team debut at 17, before embarking upon spells at Real Madrid, Newcastle United, Manchester United and Stoke City, not to mention representing my country on 89 occasions, I now feel it is the right time to bring the curtain down on my career.

I have been very fortunate in that my career has taken me on a journey that like many young players starting out, I could only have dreamt of.

What do you think of Owen's decision to retire? Get in touch via

@skyfootball

and use

#skysportstoday

[ssn] Former Liverpool striker

John Aldridge

has given his reaction to

Sky Sports News

about

Michael Owen's

decision to retire.

I'm not entirely surprised to be honest with you.

He's had major problems with injuries and it must have been so frustrating over the last four years or so, in particular.

Now he can concentrate on the horse racing! I know he'll be quite happy with that in one way, but sad in another way.

[bn]Newcastle defender Steven Taylor called into England squad to replace Gary Cahill

[ssn]

Jason McAteer

played alongside

Michael Owen

at Liverpool and he has told

Sky Sports News

that he knows exactly how his former team-mate must be feeling.

I can only speak from my experience and you know when your body's had enough.

The heart wants to play on, but the body and head are screaming to stop.

Unfortunately, like most players, his last three or four years have not been great, but we do remember Michael Owen as a fantastic player.

For me, he'll always be a Liverpool player and when I think of him I'll always think of him in the red shirt of Liverpool.

[twtr]

#skysportstoday @

themichaelowen

should have retired after he left ManU.

He was an excellent professional and a delight to watch when fit.

Sylvester O Johnson

via

Twitter

at 9:52 AM

Owen to retire! Makes me feel really old now,I was at Leeds when he came on and scored #skysportstoday @

themichaelowen

#i'monly27

Wez Evans

via

Twitter

at 9:43 AM

#skysportstoday .

.

.

A legend in English premier league, a man known far and wide.

It is a sad day about Michael's retirement !

Chris Gallaher

via

Twitter

at 9:41 AM




[SSN]Nice line from the man himself as he watches the tributes pour in on

Sky Sports News

.

I'm overwhelmed.

So many nice messages.

Having known it for a while I thought I would be ok.

Reduced to tears watching Sky Sports News.

As Michael Owen announces his decision to retire, one player with no imminent thoughts of calling a day is

Gabriel Tamas

.

The 29-year-old defender is in talks with

West Brom

about a new contract and feels he can play on for another 10 years.

David Haye is reported to be on the comeback trail and expected to fight for the first time in a year on July 6.

Another former Liverpool striker

David Fairclough

is on

Sky Sports News

having his say about

Michael Owen's

retirement and he believes it is a 'wise decision'.

It's somewhat disappointing, going out the way he has.

His career has petered out rather than the way he came on to the scene in dramatic fashion.

All he achieved in those early years was amazing and people thought he would go on to break all kinds of records.

It just hasn't happened for him unfortunately.

He hasn't been able to get this season up and running, and he's taken a wise decision.

Adam Jones believes fellow nominee Leigh Halfpenny should be awarded Six Nations player of the tournament.

Steven Taylor

has been called into the England squad to replace Gary Cahill for the World Cup qualifiers against San Marino and Montenegro, and the Newcastle United defender is delighted.

I am so happy to have received a call-up to the full squad.

It's every player's ambition to represent their country.

[ssnradio]Tributes to

Michael Owen

continue to flood in and his former England teammate

Nigel Martyn

will be on

Sky Sports News Radio

shortly to give his recollections of playing alongside the striker.

We're being flooded with reaction to Owen's decision through

Sky Sports Today

. Here are some of the best:

Michael Owen.

What a legend.

Consumate professional.

Inspiring player and man.

Proud, passionate, level headed, dedicated and a pleasure to watch.

Yours will be a career never easily forgotten -

The Whipplesnake

A great player and a fabulous role model who has had an amazing career.

Fair play to him and I hope he does well in whatever he chooses to do next

- Getfan

He would be classed as a Livepool legend but his move to Utd tarnished that.

I believe the lack of consistent playing time added to his injury woes.

I wonder if he looks at all his medals won at Utd and feel a sense of achievement knowing he did very little to earn them

- SR

[ssn] Former Liverpool midfielder, and later manager,

Graeme Souness

worked with Owen at Newcastle and he told

Sky Sports News

that he was the 'best striker out there' in his younger days.

Michael has had his injury problems, which are well documented, but it doesn't get away from the fact that he is an all-time great.

He's up there with the great English strikers you want to name in history.

In his young days, he was simply the best, he would score all types of goals.

I just think that Michael as a young man was the best striker out there and anyone who had him at that time would have been very lucky indeed.

[ssn] The FA's director of football development

Sir Trevor Brooking

has been paying tribute to Michael Owen and he tells

Sky Sports News

that the striker is a 'great role model'.

More than anything, as well as his playing ability, he was a role model.

He was the type of individual who was low maintenance for anyone involved in the international scene.

He behaved well, he conducted himself well and he was always willing to speak to people and give interviews.

He was someone you would have liked to have been successful.

He was a great example for all players to follow.

W

e didn't ever come out and say: 'We'll kick everyone's butt,' but we never said that we would be crap, either.

The team have done well, I'm really proud of my team.

I'm proud of my decision as well.

For all of us, we were not expecting to be competing where we were.

But we could have done better.

We definitely had the capability to do better.

With

Steven Taylor

called into the England squad for the World Cup qualifier against San Marino on Friday, the FA has confirmed

Gary Cahill

will be assessed ahead of next week's game against Montenegro. Taylor has expressed his delight at being picked by Roy Hodgson and Newcastle United manager

Alan Pardew

believes the call-up is 'fully deserved'.

[jamieredknapp]

Sky Sports

pundit

Jamie Redknapp

believes Owen was always destined to reach the pinnacle of football and enjoyed playing alongside the striker at Liverpool.

He was a dream for you.

He used to make bad balls look good.

When he started to join the first team training at 15, 16, you knew it would be a short cut into the first team.

You knew he was going to play for England and go right to the top.

He had a fantastic career, but the injuries stopped him from breaking all the England records he would have done.


Bryan Swanson reports from the 2013 Securing Sport summit in Doha, Qatar as football officials meet to tackle corruption in the game.

[bn]West Bromwich Albion midfielder James Morrison has withdrawn from the Scotland squad ahead of the forthcoming World Cup qualifiers against Wales and Serbia, the Scottish Football Association has confirmed.

Former Lions boss Sir Ian McGeechan says Sam Warburton has done enough to warrant the captaincy against Australia this summer.




[glennhoddle]

Glenn Hoddle

handed Owen his England debut and took him to the 1998 World Cup, where he scored a stunning goal against Argentina.

The former England coach told

Sky Sports News

that, in hindsight, he could easily have started Owen in the first game of the tournament.

We were very excited in bringing him into the squad at 18 years of age.

We had seen what he could do with his blistering pace.

His finishing was incredible for a young man, his coolness in the 18-yard box.

A lot of players that age got a little bit fraught and nervous, but he seemed to get calmer and calmer with every chance.

We knew he was going to announce himself at that World Cup.

There was a big clamour for him to start the tournament, but we felt there was a lot of pressure on the kid.

But, getting to know him over the years, looking back I would probably have thought the kid can handle it, he has that mentality.

England trio

Steven Gerrard

,

Kyle Walker

and

Ashley Young

have not been involved in training at St George's Park this morning.

The Football Association says it's nothing serious and the players are working out in the gym instead.

[ssn] Former Arsenal and England striker

Alan Smith

has added his tribute to Owen and told

Sky Sports News

that he was a 'big-game player'.

In his younger years, he had that blinding pace, and what a finisher.

He was one of those lads that never panicked in front of goal, he was just a natural.

He had that instinct in the 18-yard area and he was a great goalscorer.

He was one of those with ice in his veins.

He did it on the big stage as well, he was a big-game player.

We're just checking out rumours that

Blackburn Rovers

have sacked manager

Michael Appleton

after just two months in charge at Ewood Park.

We'll bring you any confirmation of this news as soon as we get it.

[ssn]

Sven Goran Eriksson

spent five years as England coach working with Owen and he told

Sky Sports News

he enjoyed the experience of having the striker as part of his squad.

He has been a fantastic footballer for all the clubs he played for and for England.

You always knew that he was a danger all the time.

He was very easy to manage.

First of all, he's a fantastic man, a professional and there were never any problems with Michael Owen on the pitch or off the pitch.

If you had him in your team, you knew at any time he's a danger and can score the winning goal.
Powered by ScribbleLive
LIVE and exclusive on Sky Sports
Most Popular
Football

International Match

Venezuela

2 - 1

El Salvador

Polish T-Mobile Ekstraklasa

Piast Gliwice

vs

Korona Kielce

German Bundesliga - Playoffs

Dutch Eredivisie - Play-offs

Cricket

County Champ D2

Leicestershire

Glamorgan

Essex

Kent

Worcestershire

Gloucestershire

Hampshire

Lancashire

County Champ D1

Sussex

Somerset

Durham

Middlesex

Ireland v Pakistan ODI Series - 1st ODI

Y Bank 40 - Group A

Warwickshire

Nottinghamshire

Horse Racing

Rugby League

Golf

Crowne Plaza Invitational

BMW PGA Championship

BMW PGA (Euro) - Rnd 1

1 Phillip Price

0

2 Graeme Storm

0

3 Andrew Dodt

0

Formula 1

Tennis

ATP Open de Nice Cote d' Azur - QF

Sam Querrey (3) vs Edouard Roger-Vasselin

Albert Montanes (1) vs Paul-Henri Mathieu

Pablo Andujar vs Gilles Simon (2)

ATP Power Horse Cup - Quarter-final

Juan Monaco (3) vs Tobias Kamke

Guido Pella vs Viktor Troicki (7)

Jarkko Nieminen (6) vs Tommy Haas (2)

WTA Internationaux de Strasbourg - QF

Alize Cornet (3) vs Chanelle Scheepers (7)

WTA Brussels Open - Round 2

Kirsten Flipkens (5) vs Jamie Hampton

Yulia Putintseva

Roberta Vinci (2)

WTA Brussels Open - QF

Sloane Stephens (4) vs Shuai Peng (8)

Varvara Lepchenko (7) vs Kaia Kanepi

Speedway

Ice Hockey

Rugby Union

The Championship - PlyOff Final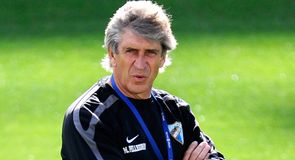 Pellegrini leaving, Woods/Garcia row plus Martinez mulls over move
Features

Sky Sports caught up with Theo Walcott to talk England ahead of their forthcoming friendlies.

What's the greatest ever European Cup moment? We asked the Sky Sports pundits for theirs...

Paul Merson heaps praise on Van Persie, Clarke and Michu and revels in Arsenal's derby demolition.